About Pea Coats
A pea coat (or pea jacket, pilot jacket) is an outer coat, generally of a navy-colored heavy wool, originally worn by sailors of European navies.Pea coats are characterized by broad lapels, double-breasted fronts, often large wooden buttons, and vertical or slash pockets. Although it first appeared in the early 18th century, modern renditions still maintain the original design and composition.
A "bridge coat" is a pea coat that extends to the thighs, and is a uniform exclusively for officers and Chief Petty Officers. The "reefer" is for officers only, and is identical to the basic design but usually has gold buttons and epaulettes.
History
The term "pea coat" originated from the Dutch or West Frisian word pijjekker, in which pij referred to the type of cloth used,which was called "Pilot cloth" (P-cloth), a coarse kind of twilled blue cloth with a nap on one side. The terms "pea coat" and "pea jacket" were first used as early as 1723, when it became a cold weather uniform in many European navies, most prominently in the British Royal Navy and Dutch Royal Netherlands Navy. The US Navy adopted them as early as 1881, becoming standard fare in the 20th century.
The modern appeal of the coat stems from celebrity interest in the item, and its classic style and practical simplicity.Once considered a luxury item for civilians, it is now popular as casual winter wear on college campuses and among the young demographic.
THE MAKERS OF PEA COATS
ROTHCO PEA COAT


Made in China / Excellent Knockoff but not as warm or tailored fitting as the real deal.

FIDELITY PEA COAT

From the beginnings in a loft in downtown Boston, Mass., Fidelity Sportswear has been manufacturing outerwear garments in The United States since 1941.

STERLINGWEAR PEA COAT

Sterlingwear of Boston, Inc. has been a manufacturer of tailored U.S. Military uniforms for more than thirty years. Beginning as a family-operated business in 1968, producing Navy Peacoats during the Vietnam era, and now in its second generation, continues to be the foremost supplier to the U.S. Government of the Navy Peacoat and many other Military uniforms.

Over the past thirty years, Sterlingwear has proudly manufactured U.S. Army outerwear, fitness, and dress uniforms, Marine Corps dress uniforms, Military all-weather raincoats, Coast Guard uniforms, Peacoats and Bridge coats for the Naval Academy, as well as, Bridge Coats for various Military branches. Customers of Sterlingwear include PX outlets and other retail outlets including, but not limited to, catalog sales. ALPHA INDUSTRIES PEA COATS

Travel back to 1959. Knoxville, Tennessee. The United States Department of Defense recruits Alpha to revamp its military jacket. Why? Because as the jet age takes flight to greater heights and ground troops encounter trickier terrain, the technological needs and real-life demands of our soldiers change. Simply put, but not simply achieved, Alpha re-engineers outdated designs. As better fabrics are developed and tested, Alpha makes better jackets for our soldiers-better designed, better produced, and more reliable. Alpha garments are ranked as warmer, more comfortable, and designed to meet any climatic challenge or test of time.

Today, Alpha Industries is not only a global enterprise, manufacturing and selling its products throughout the world, but also the premier supplier of jackets for the U.S. Air Force, Navy, Army, and Marine Corps. Alpha sets the standard as a leader in cutting-edge outerwear design. From flight decks to civilian sidewalks, Alpha stands on the frontlines of quality and fashion, as a testament to innovation, creativity and manufacturing know-how. The honest truth is that Alpha is tried, and tested, and proven. And that's where you come in. Now it's your turn to try it out.

THE STARS ARE WEARING PEA COATS: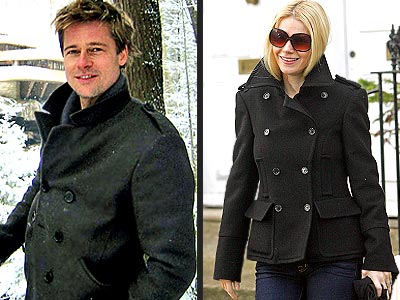 Even though they haven't been a romantic item for years, Brad Pitt and ex-fiance Gwyneth Paltrow are still on the same style wavelength. During his and Angelina's visit to Frank Lloyd Wright's Fallingwater, Brad kept warm in snowy Pennsylvania with a millitary peacoat. A few weeks later, Gwyneth buttoned up in a similar black coat leaving a London gym. Peacoats are always fashionable, but both of theirs offer a nice twist on the classic style, with chic epaulets on the shoulders. Here's a roundup of similar peacoats in stores right now.

Get a coat like Gwyneth's
Splurge like a star: Alvin Valley, $1069

Get a coat like Brad's
Super-luxe: Double-faced cashmere peacoat, $1,200

Story from People.com







32 Oz Wool Pea Coat Satin Lined Center Vented 32" Wool Pea Coat--Quilt Lined Alpha Charlene Coat Alpha Douglas Jacket Alpha Portsmouth Coat Alpha USMA 59 Coat Alpha USN Pea Coat Alpha Youth Pea Coat Authentic Navy Pea Coat Womens - US MADE Bridge Coat U.S. Navy Original Canadian Great Coat Classic Military Style Pea Coat - US MADE Doggie Navy Pea Coat Great Coat - Norway Wool Ladies Wool Pea Coat Men's Pea Coat - Alpha Pea Coat Vintage - GI Issue Pea Coat vintage German Pea Coat-USN Original Pea Coat-USN Original-Larger Sizes Swiss Great War Wool Coat Swiss Wool Bridge Coat - Rare Swiss Wool Tunic The Mariner - Men's The Mariner - Women's The Navigator - Children The Navigator - Men's The Navigator - Women's US Type Naval PeaCoat - Wool USN Vintage Peacoat U.S. Navy Type Peacoat - Wool Pea Coat US Navy Type Peacoat Double-Breasted Peacoat US Navy Peacoat Wool Blend Pea Coat Winter Peacoat - Men Pea Coat Army Wool US Navy Peacoat US Made Navy Pea Coat Authentic Navy Pea Coat sexy Pea Coats Pea Coat Mens Pea Coat Navy Pea Coat Plus Size Women's Wool Pea Coats Men's Wool Pea Coat Navy Pea Coats Wool Pea Coats